Thursday, March 18th, 2010
---
9:35 am
- UGH
Life has been INSANE the past few months. I've just been super busy with no time to do anything. Here's a quick update...

My two year anniversary is coming up! in like 2 weeks. 2 years, wow thats a long time, even though it does feel like it. I went away twice in the last two months. All on Fabian :) He makes me smile. Work is HELL but its finally starting to calm down now that Jodi has returned. As much as she pisses me off, I appreciate her work ethic and it makes work more enjoyable knowing i'm not left to do absolutely everything. Fabian is having a Dungaree Dolly bag made for me and I'm so excited for it I'm getting butterflies. Its my first one (But according to him, If i like them, he's having Dolly make me one for every special occasion!) I'm still looking for another job but trying not to sweat it at the same time.

And I'm in te process of setting up and working out logistics of my first pinup shoot ever. And i mean with a big photgrapher whose worked with celebrities and all over the world. Its kinda crazy and very nerve wrecking. I'm definitely nervous about it. And it all happened so out of the blue. I was approached at WORK of all place She came to me with a question and then came back to tell me that she wants to shoot me and gave me her card. After emails back and forth, we met up and started talking and it turns out its not just a couple she wants to take, she wants like a whole pinup spread with lots of different outfits and such. Its kinds crazy. She used to do alot of pinup when she was younger but not recently and she wants to do it again. We've come up with a story line and she's picked out some of the clothes she wants me to wear. And so i've been trying to lose as much weight as i can till then and doing my homework on everything. I'm so nervous and self conscious about it i could throw up. I dont know....

I need to go shower and get ready for another busy day!

PS...I went to Jerry Lee Lewis, MOST AMAZING NIGHT EVER. not only did i get to see someone i've loved since the age of 3 and in person and literally 5 feets from him, but i sat with and hung out with MARKY RAMONE, the drummer for the ramones, duh, for the whole night! Nicest guy ever. SHowed us pictures of his jacket in the rock and roll hall of fame, and talked about his simpsons character and why he wears sunglasses all the time! That was a gift Fabian will never top ever :)
Sunday, March 1st, 2009
---
1:42 am
- Ive missed livejournal
I havent written in here in months, im going to start again. Primarily because everyone does the facebook thing, and i LOATHE facebook. And i deleled my myspace...for various reasons.

Today was a good day, other than the fact that i had work which is always aggravating to me considering that everyone i work with is super lazy and i always get stuck picking up everyones slack. If it wasnt for the fact that the economy is shit, and that i make a decent amount of money AND i have full medical coverage, i'd be gone. But as much as i hate it there i have to say that i am pretty lucky to have it.

Fabian took me ot to eat, to Houlihans. I love that place. Its not the best food in the world (even though they have killer nachos, but i love it for sentimental reasons. That was where he took me on our first date. I'll always have a soft spot for that place. We rented movies and then did shopping for the week. It was an uber busy day for me but i had fun running around with Fabian. I always do. My day always seems a little bit better when hes around.

We rented that vegas movie with Ashton Kutcher and Cameron Diaz...i dont remember the name. Its pretty bad...and is it me or did she get old? Maybe it was the lighting? i dunno...she looked horrible. We also rented Still Waiting...hahah the first one wasnt the greatest, but i enjoy stupid movies like that. If the second is as stupid as the first, i'll enjoy it.

So its like 2 in the am...i need to go to sleep. I have to be up in 3 hours for work. Night!

p.s. the new Morrissey album is amazing, seriously i love that man.
Sunday, April 10th, 2005
---
9:52 pm
I think that this is going to be friends only from now on, or at least my more private entries. I never write anything personal, or at least semi-personal because i don't want certain people, to read them. But since i've deleted them, who cares right? If you want to be added comment, or email me. Chances are i'll add ya.

So for the most part this will be friends only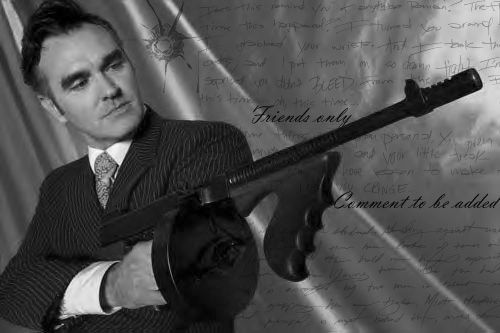 made by
uncle5alex666
Wednesday, October 27th, 2004
---
6:26 am
- for Joeeeyyy
Thanks my love for all your help last night, its greatly appreciated :)
You're the greatest thing ever.
And I'm being 100% serious about that.
Lots of love yo.
<3 SEXXXX